Saratoga Technologies DEP System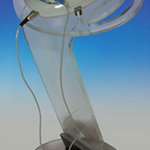 The Saratoga Technologies DEP (DermoElectroPoration) System is a powerful, non invasive safe transdermal drug delivery system that delivers ionic drug solutions into the body via a standalone transdermal delivery handpiece. With a comfortable handpiece and smart design, the DEP is fast, easy to use and incredibly accurate.
Designed for optimal results during every use, operators and patients will appreciate the painless operation no matter the skin type or length of treatment. Featuring a subtle vibration and smooth operation, the DEP  system handpiece reduces the sensation of the electronic impulse delivery system and helps reduce spilling of medication.
The user friendly DEP system doesn't use pre-charged compounds, special carrier gels or other specific products. Instead, the revolutionary design allows the system to deliver a fast, reliable drug administration process that gets results.
Detailed Product Description:
Control amount of drug to be delivered and time of treatment
No need for pre-charged compounds, carrying gels or specific prepareations
No electrolysis effect – no drug PH modification
Non invasive delivery
Easy to use
Features new internationally patented proprietary Dermoelectroporation technology
Real time transdermal delivery monitoring
FDA cleared as alternative to traditional injections
No need for patients to change their pre-existing protocols
Current delivery perception protected
100% drug protection against external agents
Capability of Transdermal Delivery of ionic drug solution of macromolecules (greater than 800.000 Dalton)
Examples of Deliverable Drugs:
Aminophyilline
Amino Acids
Collagen
Elastine
Growth factors
Heparin
Lidocane
L-Carnitine
Phosphatidylcholine
Vitamins
Steriods
…and many more!
Saratoga Technologies DEP Applications:
Hyperhidrosis
Skin rejuvenation
Wrinkles
Pre-laser treatments
Pre and post plastic surgery treatments
Skin lightening
Steroid applications
Aesthetic applications
Replacement injections for Mesotherapy applications and others
If you are interested in finding out more about the Saratoga Technologies DEP system to your dermatology practice, medical spa or aesthetician office, UsedCosmetic.com will give you pricing information with zero obligation. Here at UsedCosmetic.com, we are the industry leader in used cosmetic laser system sales because we offer the lowest prices out there in addition to a 100% customer satisfaction guarantee along with every single used cosmetic laser system we sell. To find out more about the used Saratoga Technologies DEP systems in our inventory, simply fill out our contact form below, and one of our trusted representatives will get back with you quickly with all the answers to your questions about the Saratoga Technologies DEP system.