Saratoga Technologies NaturalLaseQS Laser System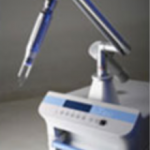 The NaturalLaseQS from Saratoga Technologies is the only Q-switched Nd:YAG laser that delivers 2 Joules of pulse energy. With the powerful NaturalLaseQS, treatments can be performed safely on virtually any part of the body, including the face, chest, shoulders and arms.
The versatile Saratoga Technologies NaturalLaseQS laser system is a reliable and powerful laser that is suitable for a variety of treatments. Especially created for tattoo removal, the NaturalLaseQS safely and effectively removes the most popular tattoo ink colors with fewer complications in just 4-8 treatments. The system is also a powerful treatment option for skin rejuvenation, removal of pigmented lesions and sun damage.
Offering a new standard in powerful laser tattoo removal, the NaturalLaseQS is suitable for use in dermatology practices, plastic surgery centers and aesthetic treatment clinics. With four different wavelengths available in one system, the NaturalLaseQS is one of the most flexible systems on the market.
Detailed Product Description:
Delivers dramatic results after 1-2 sessions, with full results after 4-8 treatments
Four wavelengths: 1064, 532, 585, 650
2J highest power Q-Switched Nd:YAG
Suitable for dermatology clinics, plastic surgery centers and aesthetic offices
Removes black, blue, red, orange, green, yellow & violet ink
Saratoga Technologies NaturalLaseQS Applications:
Skin rejuvenation
Tattoo removal
Sun damage
Pigmented lesions
If you are interested in finding out more about the Saratoga Technologies NaturalLaseQS laser system to your dermatology practice, medical spa or aesthetician office, UsedCosmetic.com will give you pricing information with zero obligation. Here at UsedCosmetic.com, we are the industry leader in used cosmetic laser system sales because we offer the lowest prices out there in addition to a 100% customer satisfaction guarantee along with every single used cosmetic laser system we sell. To find out more about the used Saratoga Technologies NaturalLaseQS laser machines in our inventory, simply fill out our contact form below, and one of our trusted representatives will get back with you quickly with all the answers to your questions about the Saratoga Technologies NaturalLaseQS laser system.