Alma Accent Ultra Laser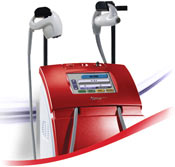 Building on the success of the original Accent platform, Alma has introduced a new model called the Alma Accent Ultra. This cosmetic laser machine is ideal for laser-assisted lipolysis, skin tightening and body contouring.
Laser-assisted lipolysis is one of the newest and most requested cosmetic procedures and more and more patients are turning to the Alma Accent Ultra because of its high level of customer satisfaction, comfort and safety. And the fact that the Alma Accent Ultra is surprisingly affordable makes it a very popular addition to existing cosmetic procedure facilities. This model is extremely easy to operate and produces results with virtually no pain, side effects or recuperation time. It also has one of the highest returns on investment for any cosmetic laser machine on the market today. Contact us right now for the lowest prices on an Alma Accent Ultra system.
Detailed Product Description
The Alma Accent Ultra has the following features:
Able to treat entire body and remove fat non invasively
Virtually pain-free with IN-Motion technology
Expandable platform technology
Dimensions: 21″ x 17″ x 38″
Weight: 110 pounds
Electrical: 100-120 VAC, 5 A, 50/60 Hz or 208-240 VAC, 2.5 A, 50 Hz
Alma Accent Ultra System Applications:
Radio frequency skin tightening
Skin tightening
Body contouring
Laser-assisted lipolysis
In addition to offering the best prices on cosmetic laser equipment, UsedCosmetic.com offers a full 100% satisfaction guarantee with every system that we sell. All of our refurbished cosmetic lasers are completely reconditioned and inspected by a professional technician to make sure they work just like new.
When it comes to comparing cosmetic laser machines, you have a lot of options. UsedCosmetic.com is here to help you find the best system based on your individual needs and budget. Contact us today if you are interested in this model or just need some guidance on finding the best cosmetic laser machine for your business.