Aspen Pinnacle Series Laser System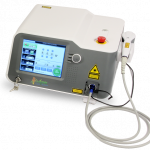 The Aspen Pinnacle Series laser system offers the versatility and power needed to perform both therapeutic and surgical laser procedures. The flexible design simplifies the process of switching between treatment protocols, even in the busiest cosmetic and clinical settings. Simply turn on the ergonomic probe and change the treatment program using the touchscreen design, and you'll be ready to go regardless of the conditions you are treating.
With a wattage of 1-60 watts of output, the Aspen Pinnacle Series makes it easy to treat just about any health condition with highly effective results and impressive speed. The system also offers two different operation modes, Continuous Wave (CW) and Pulse, for more variety in treatments.
A highly portable laser system, the Aspen Pinnacle Series features a custom rolling cart that can be easily moved between different treatment areas. It also has a sturdy wheeled travel case allowing for safe transport to other treatment locations.
Detailed Product Description:
Dimensions: 400(W)*385(L)*200(H) mm
Available configurations: 30 watts, 45 watts and 60 watts
GaAlAs Diode Laser
Fiber connector: SMA905 Connector
Laser control unit
Fiber sizes: 400 microns
Wavelength: 980nm
Operation modes: Continuous Wave (CW) and Pulse
Pulse Duration: 10μs-3s
Reputation rate: 0.2Hz-20KHz
True Color Touch Screen
Pilot beam: Red Diode Laser Of 635nm, Power<5mW
Voltage/Current reading: 110/220 VAC, 5A , 50/60 Hz
Weight: 28lb
Ergonomic therapy handpiece & holder
Aspen Pinnacle Series Applications:
Pain management
Vascular
Wound care
Orthopedics
Sports medicine
Same day surgery (veterinary)
If you are interested in finding out more about the Aspen Pinnacle Series laser system to your dermatology practice, medical spa or aesthetician office, UsedCosmetic.com will give you pricing information with zero obligation. Here at UsedCosmetic.com, we are the industry leader in used cosmetic laser system sales because we offer the lowest prices out there in addition to a 100% customer satisfaction guarantee along with every single used cosmetic laser system we sell. To find out more about the used Aspen Pinnacle Series laser machines in our inventory, simply fill out our contact form below, and one of our trusted representatives will get back with you quickly with all the answers to your questions about the Aspen Pinnacle Series laser system.