Astanza Duality Laser System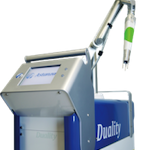 The Astanza Duality is a powerful and incredibly versatile laser system that provides the high performance and results that you've been looking for.  The powerful Astanza Duality gets rid of tattoos faster than the competition, and works on a large wavelength of colors to get rid of even the most stubborn tattoos in less time.
Compared with other systems, the Astanza Duality's combination of super short pulse duration (6000 picoseconds) and ultra high pulse energy results in powerful ink fracturing in even dark and tough to remove inks in fewer visits. While many lasers stop being as effective after the first one or two treatments, the Astanza Duality takes treatments a step further, resulting in complete removal of inks later in the removal process.
The Astanza Duality laser machine is a powerful system that utilizes the latest in cosmetic laser technology to completely erase tattoos, vascular lesions and pigmented lesions.  Offering a high repetition rate which releases pulses faster than other laser tattoo removal systems, the Duality laser from Astanza allows for faster treatment over larger areas and less pain for clients.  It's the perfect choice for all types of laser tattoo removal practices and cosmetic practitioners.
Detailed Product Description:
Removes some tattoos in as little as 2 visits
Completely removes even the most stubborn ink
Unique square beam produces more effective results
TruePower design offers optimum energy output
Wavelength: 1064 nm, 532 nm
Repetition rate: 1, 2, 5, 10 Hz
Spot sizes: 2, 4, 5, mm squared
Electrical requirements: 220-230 VAC, 50/60 Hz, 16 A
Heats up in less than 45 seconds
Super fast pulse duration (6 ns)
High pulse energy removes all ink in 95% of tattoos
Fluence options up 28 J/cm (squared)
Astanza Duality Applications:
Tattoo removal
Pigmented lesions
Vascular lesions
If you are interested in finding out more about the Astanza Duality laser system to your dermatology practice, medical spa or aesthetician office, UsedCosmetic.com will give you pricing information with zero obligation. Here at UsedCosmetic.com, we are the industry leader in used cosmetic laser system sales because we offer the lowest prices out there in addition to a 100% customer satisfaction guarantee along with every single used cosmetic laser system we sell. To find out more about the used Astanza Duality laser machines in our inventory, simply fill out our contact form below, and one of our trusted representatives will get back with you quickly with all the answers to your questions about the Astanza Duality laser system.