Cutera Enlighten Laser System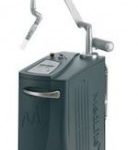 The Cutera Enlighten is the only laser platform to include dual wavelength and picosecond and nanosecond pulse durations for the most effective clearing of the most tattoo colors and pigments.
Featuring a fast 2-second start up time and a broad range of spot sizes (2-8mm), the Cutera Enlighten delivers efficient treatments and high patient comfort for tattoo removal treatments.
Detailed Product Description:
Highly effective removal of all inks
Sleek, modern style for optimum performance
Dual wavelengths (532 nm/1064 nm)
Selectable dual pulse design
Cutera Enlighten Applications:
Tattoo removal
Pigmented lesions
UsedCosmetic.com is so confident that we offer the best prices out there on used cosmetic laser systems and new cosmetic laser systems that every cosmetic laser system we sell is accompanied by a 100% customer satisfaction guarantee, so you will know you have gotten a great deal on your Cutera Enlighten Laser System. If you have any questions about Cutera Enlighten laser equipment, simply contact ustoday by filling out the form below, and one of our trusted UsedCosmetic.com representatives will get in touch with you to answer all your questions and provide pricing details.