CoolTouch CTEV Laser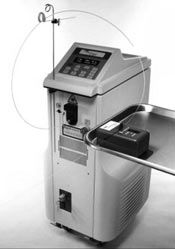 The CoolTouch CTEV is a top of the line system for ablative skin resurfacing, including varicose veins. Unlike some other cosmetic machines, this model can treat varicose veins with no bruising or swelling and virtually no pain.
The treatment of varicose veins is one of the fastest growing segments in the cosmetic procedure industry, and the CoolTouch CTEV is a big part of the reason for that. It produces superior results compared to other methods, and it does so without the need for hospitalization or significant downtime. It is also the only cosmetic laser on the market that offers an automated fiber pull-back device that allows for consistent treatment results. This model has been cleared by the FDA for the treatment of great, tributary and small saphenous veins. UsedCosmetic.com has the lowest prices on CoolTouch CTEV lasers.
Detailed Product Description
The CoolTouch CTEV Laser has the following features:
Automated pull-back device for consistent treatment
Up to 10 Watts of power
Wavelength: 1320 nm
Dimensions: 31″ H x 18″ W x 21″ D
Weight: 160 pounds
Electrical: 230 VAC, 50/60 Hz, Single Phase or 115 VAC, 50/60 Hz, Single Phase
CoolTouch CTEV Laser System Applications:
Ablative skin resurfacing
Leg veins
UsedCosmetic.com is the number one online source for all things related to cosmetic laser machines, including IPL therapy equipment and aesthetic laser machines. All of our refurbished cosmetic equipment is professionally reconditioned and tested to work just like a new system. Plus we back every cosmetic laser system we sell with a complete 100% satisfaction guarantee that says you can return your purchase for a full refund if you are not happy.
If you have any questions or need more information about the CoolTouch CTEV or any other cosmetic laser system we sell, just fill out the form below. We would also be happy to quote you the best price on a CoolTouch CTEV laser machine.