Alma Accent System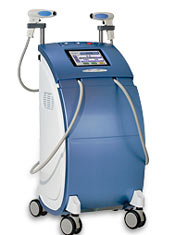 The Alma Accent Aesthetic RF system is a totally unique piece of cosmetic equipment that uses radio frequency for non-invasive treatments of wrinkles, skin tightening and body contouring. And because this system is virtually pain-free and completely portable, it is the perfect addition to any cosmetic procedure office.
With its exclusive dual-layer thermotherapy, the Alma Accent offers two options for non-invasive skin treatments. It is also easily transported from room to room, and allows you to add another cosmetic treatment option to your menu of services. It requires no anesthesia and requires almost no downtime between treatments. UsedCosmetic.com can help you get the best deal on a Alma Accent cosmetic system.
Detailed Product Description
The Alma Accent has the following features:
Able to treat entire body
Virtually pain-free
Expandable platform technology
Two radio frequency modes: Bi-Polar or UniPolar
Dimensions: 21″ x 17″ x 38″
Weight: 110 pounds
Electrical: 100-120 VAC, 5 A, 50/60 Hz or 208-240 VAC, 2.5 A, 50 Hz
Alma Accent System Applications:
Radio frequency skin tightening
Skin tightening
Body contouring
Wrinkle reduction
The Alma Accent is one of the most affordable cosmetic procedure machines on the market today, and UsedCosmetic.com can make it even more affordable with the lowest prices on refurbished Alma Accent machines. We offer a complete 100% satisfaction guarantee and the peace of mind in knowing that our pre-owned Alma Accent equipment has been professionally reconditioned, tested and inspected.
To get the lowest price quote on an Alma Accent laser system, simply fill out the contact form below. We would also be happy to answer any questions about this model or help you find the perfect models based on your needs and budget.