Syneron VelaShape II System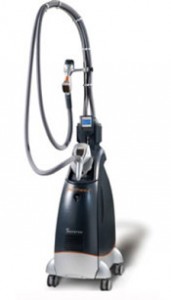 The Syneron VelaShape II is a revolutionary system for body contouring and it is the first FDA-approved non-invasive device for circumferential reduction and cellulite reduction.
The Syneron VelaShape II uses a combination of advanced technologies to deliver exceptional body contouring results. This system employs both infrared light and bi-polar radio frequency along with tissue manipulation to smooth the appearance of skin and reduce cellulite. It can be used on a wide variety of areas, including thighs, abdomen, love handles, buttocks and hips. This system can treat most areas in less than 30 minutes with virtually no discomfort at all for the patient. Best of all, it does all this noninvasively, which makes it much more attractive for patients than other options. Body contouring is projected to be one of the fastest growing segments in the cosmetic industry, and the Syneron VelaShape II can help you capitalize on that demand. Contact us today for the best price on a quality refurbished Syneron VelaShape II system.
Detailed Product Description
The Syneron VelaShape II has the following features:
Radio frequency power of up to 50W
Wavelength: 700 – 2000 nm
Infrared lamp with up to 20W of power
Weight: 60 pounds (27 kg)
Dimensions: 14.2" x 21.6" x 31" (36 x 55 x 80 cm)
Electrical: 90-230 VAC, 50-60 Hz, Single Phase
Syneron VelaShape II System Applications:
Skin tightening
Body contouring
Every used cosmetic machine we sell comes with a complete satisfaction guarantee and the security of knowing that it has passed our high standards. We thoroughly recondition and test every machine we sell, and we stock a full inventory so that we can deliver your equipment fast. We also offer all the online tools you need to compare prices and features to find the best refurbished cosmetic machine for your particular needs.
At UsedCosmetic.com, we offer the lowest prices on reliable pre-owned cosmetic machines, but we also strive to offer the fastest and friendliest service. If you would like a no-obligation price quote on a Syneron VelaShape II system or just have a question about this model, simply fill out the contact form below.