Lumenis LightSheer Laser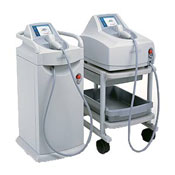 The Lumenis LightSheer laser is a simple and compact system for fast hair removal. It can treat virtually any hair color or diameter and all skin types, including tanned skin.
When it comes to laser hair removal, it's hard to beat everything the Lumenis LightSheer has to offer. This compact system is small enough to set on a tabletop or use with optional cart, but it delivers the same results you would expect from a much larger and more expensive system. It requires no consumables so it is very cost effective to operate. The Lumenis LightSheer is available in three configurations – the LightSheer ST, LightSheer ET and LightSheer XC. There is also the option of the LightSheer DUET, which combines two systems into one. All the LightSheer models can be plugged into a standard outlet, so that makes it easy to move to any location without having to worry about finding an electrician.
Detailed Product Description
The Lumenis LightSheer Laser has the following features:
Laser type: AIGaAs Diode Rays
Wavelength: 800 nm
Spot size: 9 mm to 12 mm depending on model
Dimensions: 17" x 20.5" x 15" (ST and ET models), 14.5" x 15" x 38" (XC model)
Weight: 60 pounds (ST and ET models), 114 pounds (XC model)
Electrical: 100-120 VAC, 12 A, 200-240 VAC, 6A, 50/60 Hz (ST and ET models), 100-120 VAC, 16A, 200-240 VAC, 8A, 50/60 Hz (XC model)
Lumenis LightSheer System Applications:
You can save up to 60% on refurbished cosmetic lasers at UsedCosmetic.com while still getting top quality machines that are reliable and durable. We only sell pre-owned Lumenis lasers that have been through our extensive reconditioning process and passed a final inspected. We also offer a complete satisfaction guarantee with every machine we sell.
There are several different Lumenis LightSheer models to pick from, and UsedCosmetic.com can help you find the one right one for your business. We have the best prices on Lumenis cosmetic equipment, so contact us today for a low price quote on a Lumenis LightSheer system.