Palomar EsteLux System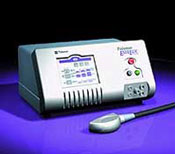 The Palomar EsteLux is an affordable IPL machine that uses Palomar's Flashlamp technology to deliver exceptional results for acne treatment, hair removal and vascular treatments.
If you think that you can't afford a quality IPL system, then you need to look at the Palomar EsteLux. This system costs just a fraction of many other cosmetic laser systems, but it can still perform several cosmetic procedures with impressive speed and efficiency. The Palomar EsteLux can remove hair from a patient's back or both legs in less than 30 minutes and it can treat all kinds of skin types. It can also handle acne treatments and pigmented and vascular lesions. Contact UsedCosmetic.com today to get low pricing details on the Palomar EsteLux system.
Detailed Product Description
The Palomar EsteLux Laser has the following features:
Light source: IPL Flashlamp
Wavelength: 400 nm to 1400 nm
Spot size of up to 16 x 46 mm
Up to 7.4 cm2/sec (Coverage Rate), 1Hz (Pulse Rate)
Weight: 48 pounds (22 kg)
Dimensions: 19″ (48 cm) L x 11″ (29 cm) H x 14″ (36 cm) D
Electrical: 100-240 V, 50/60 Hz
Palomar EsteLux System Applications:
Acne treatment
Laser hair removal
Pigmented vascular lesions
UsedCosmetic.com is your best online source for cosmetic lasers and IPL machines, including the best prices on the Palomar EsteLux system. We only sell professionally reconditioned cosmetic systems that have been thoroughly tested and inspected to make sure they work just like a new model. Our prices on used cosmetic machines are up to 60% less than you would pay for a new system. We even include a 100% satisfaction guarantee so that you can buy with complete confidence.
We can deliver a quality pre-owned Palomar EsteLux machine at the lowest price. Contact us right now to get a fast and free price quote or to request more information about this model or any other cosmetic laser in our huge inventory. There is never any obligation to get pricing information.