Palomar SlimLipo Laser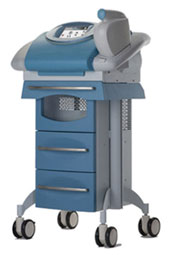 With two available wavelengths and a precise aiming system, the Palomar SlimLipo system is one of the best machines available for laser assisted lipolysis and body contouring.
Most laser lipo systems operate with just a single wavelength, but the Palomar SlimLipo has wavelengths of 924 nm and 975 nm that can be used independently or together to produce faster and more effective results than comparable systems. This machine also features a flexible tip design that allows it to easily move through tissue and around curved areas. The Palomar SlimLipo can produce results that rival traditional liposuction methods, but it can do it with far less patient discomfort and downtime. Oftentimes patients can return to work within just a day or two after being treated by this system. To get the best price on a Palomar SlimLipo system or to request more information about this model, contact UsedCosmetic.com right now.
Detailed Product Description
The Palomar SlimLipo Laser has the following features:
Laser type: Diode
Wavelength: 924 nm, 975 nm and 924/975 nm blend
Frequency up to 100 Hz
Adjustable power of 4 to 24 W or 8 to 40 W
635 nm aiming beam
Palomar SlimLipo System Applications:
Laser assisted lipolysis
Body contouring
If you want to save money on a Palomar SlimLipo laser machine, then it makes sense to buy a pre-owned model instead of a new one. We can save you up to 60% off retail prices, but you don't have to worry about quality because all of our used cosmetic lasers are thoroughly reconditioned and then tested and inspected. We also offer a 100% satisfaction guarantee.
UsedCosmetic.com is the best place to buy a laser assisted lipolysis system because we have the lowest prices and the largest inventory. To get a low price quote on a used Palomar SlimLipo system, just fill out the form below. We'll respond back with SlimLipo pricing information with no obligation on your part.